Accelerate Insights with Self-Service Embedded Analytics
Reveal is a business intelligence solution that is purpose-built for embedded analytics. Deliver full-featured self-service dashboards and modern reporting with a beautiful, branded experience in any JavaScript framework, Windows Forms or WPF application. Deploy to any cloud – public or private – or your own on-prem servers.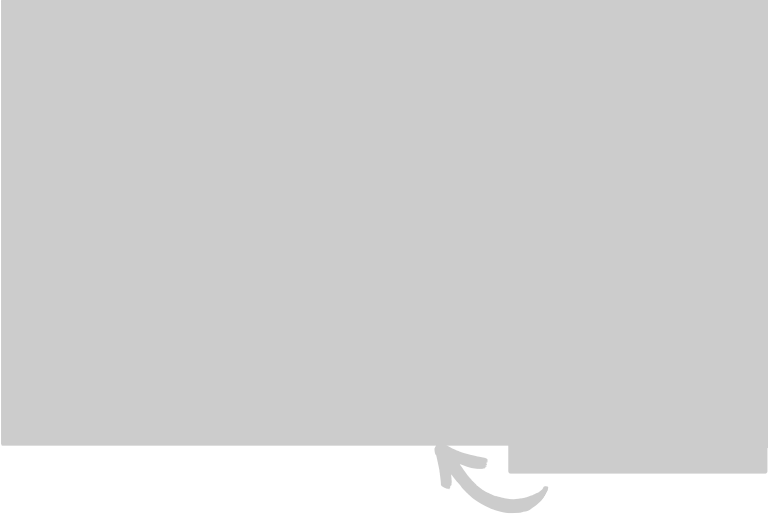 Why Choose Purpose-Built Embedded Analytics?
Most of today's embedded analytics solutions are simply iFrames embedded in a Web View in an application. With a purpose-built embedded analytics solution, you get complete control over your own app experience – which features to show and hide, how your dashboards are branded, how security is implemented, and where your app is deployed.
With Reveal as your embedded analytics solution, there is no compromise in features and functionality, all while driving data-driven decisions across your organization.
Top Embedded Analytics Features Your Customers will Love
Simple & Beautiful User Experience
Transform and grow your product with custom dashboards and data visualizations. Gain a competitive advantage by enabling storytelling with data and showcase your business data in context and in real-time by embedding beautiful and interactive data visualizations into your apps.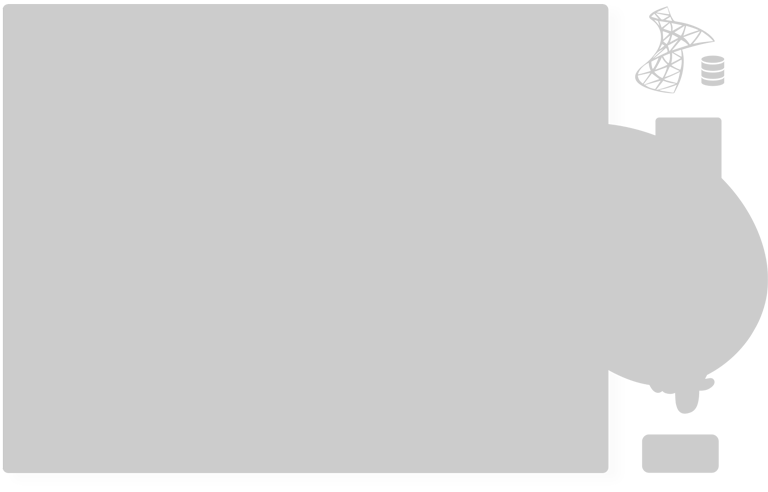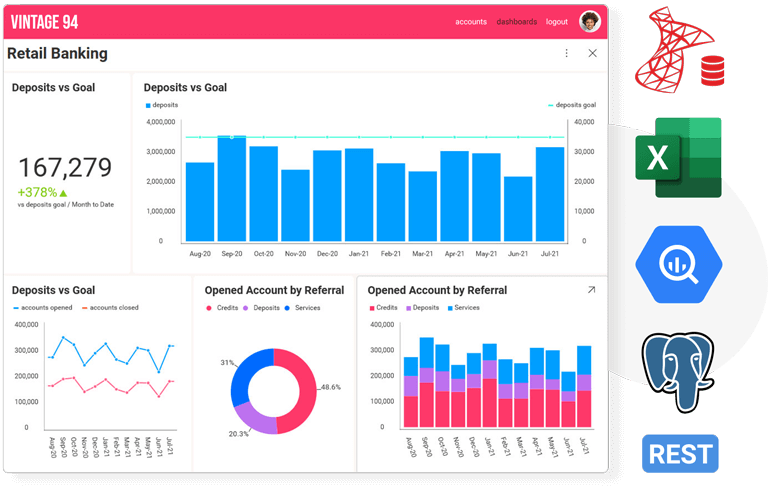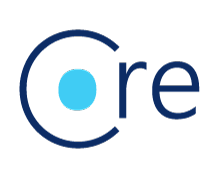 Works on Any Platform
Reveal's native web, desktop & server SDKs can be integrated into applications on any platform and tech stack including .NET Core, Java, NodeJS and front-end technologies such as JavaScript, React, Angular, Web Component, VueJS, jQuery, MVC and Java Frameworks like Spring, Tomcat, Apache.
Match Your Brand Experience
Since Reveal is an embedded BI solution, it needs to match your UX. You have complete API control over how Reveal looks and behaves in your application – fonts, background & foreground colors, visualization colors palettes, and more give you 100% control over your app UX.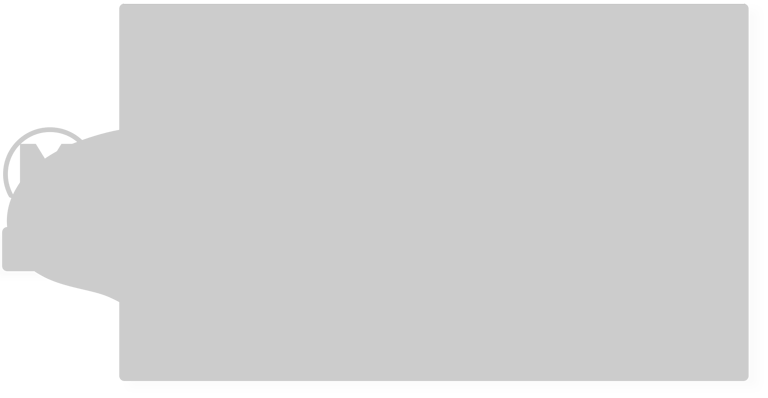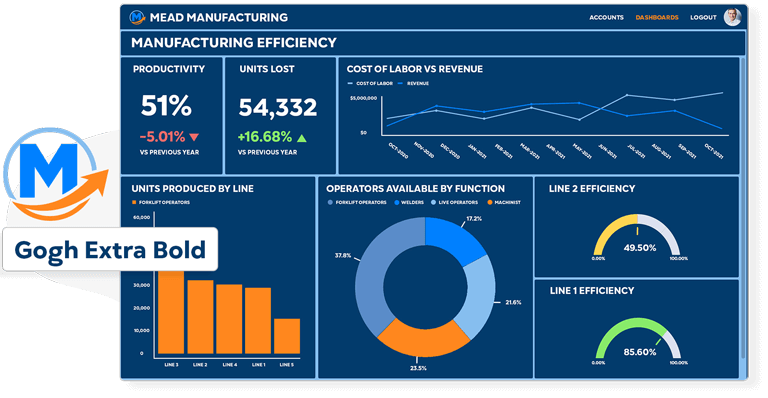 This is the magic. On the fly, we transform data from disparate data sources into visual displays that the brain can understand and act on.
Jim Richardson
President of Atanasoft

SDK Features for Optimal Developer Productivity
Connect to Any Data Source
Dozens of Connectors, including REST, Postgres, JSON, CSV. Excel, SQL Server, Analysis Services, Google Big Query, Azure SQL, Azure Synapse and more.
Deploy Anywhere
With Reveal, you are in charge of deployment. Reveal runs on Windows, Linux, or Mac servers, with backend SDKs for .NET, Java and NodeJS. Deploy on-prem, or to any cloud or any container in the cloud!
Secure by Default
Data access is controlled by you. You have complete control over queries, parameters and filters that are sent to your data sources. We have added capabilities to support multi-tenant backends, and row-level filtering for per-user security.
Rich Client & Server API
Every aspect of Reveal is configurable via properties, functions, and events in a rich API in both the client and server SDK's. With Reveal, you can override every aspect of interactive behavior, how dashboards are loaded and saved, and what UI features are available to users.
What People are Saying About Reveal
Embedded Analytics Video Tutorials
Get started with the resourses you need to create simple and beautiful dashboard
Frequently Asked Questions
Reveal is an
embedded analytics
solution that provides organizations with the most powerful, flexible and transparently priced analytics tools on the market. Reveal provides developers with a wide range of highly customizable and easy-to-use embedded analytics tools and data visualizations, which end users can immediately understand.
Reveal brings the power of data to the hands of your employees, customers, partners, suppliers and yourself. It provides interactive dashboards, drilldowns, collaboration, sharing and true self-service with a drag and drop dashboard creator experience on any device that lets anyone build beautiful dashboards in their apps and act at the right moment.
Price varies depending on your need but is always one-simple fixed price. We have no hidden fees, usage or users' tiers. To get a price, you can request a quote
on this link
.
Creating a dashboard in Reveal
is very easy. First, you need to connect to a data source that contains your data and then create beautiful visualizations to convey the meaning and message of the insights that you get. After that, you can save your dashboard and share it with everyone that needs to have access to that data.
Reveal's native SDKs can be integrated into applications on any platform and tech stack including .NET Core, Java, NodeJS and front end technologies such as React, Angular, WebComponent, VueJS, jQuery, MVC and Java Frameworks like Spring, Tomcat, Apache.
Reveal is based on a cloud architecture that includes multiple authentication methods, local caching of data to minimize sending of queries to servers and databases, and much more. You can
read more about Reveal's security here
.
The SDK server-side component is a set of ASP.NET Core libraries (supporting both .NET Framework, ASP.NET Core and Java), this allows the deployment into both on-premises or cloud applications.
Embedded Analytics Blogs
Recent Blogs Posts about Reveal
Read the latest about analytics and visualizations. View more blogs.