Telecommunications Embedded Analytics
In today's digitalized world and highly competitive business environment, telecom companies need forward-looking, predictive insights that can help them differentiate their services, solve customer problems and sell more. In short, they need telecommunication analytics.
Request a Demo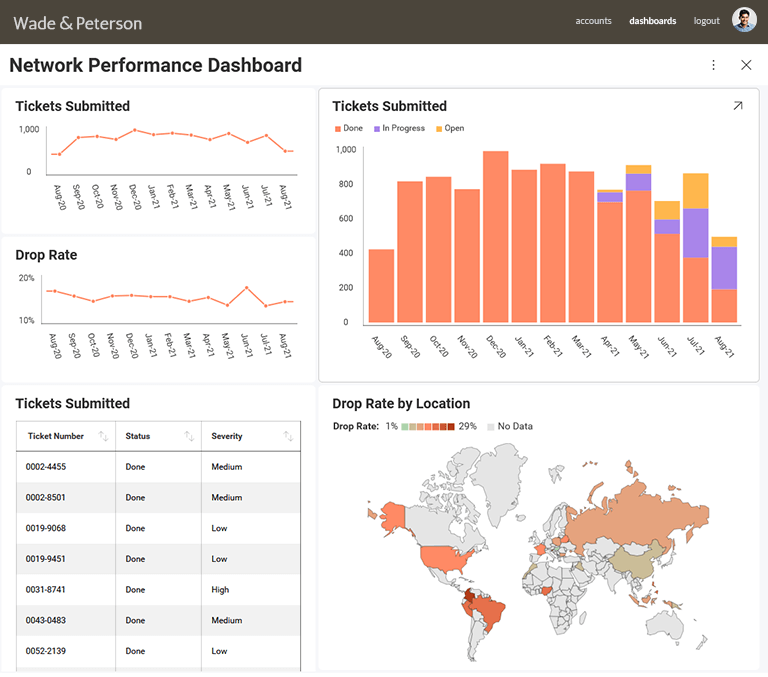 The Importance of Embedded Analytics for Telecommunications
Telecom's types of communication are an essential part of people's lives nowadays. There are over 6 billion smartphone users and over 4 billion active internet users worldwide. With the rapid rise in these numbers, telecom companies get flooded with data every single second. The competition to provide the best plans and services to customers to grow profits becomes even more challenging for telecom companies. Telecommunication analytics can help them segment the market and provide the exact personalized deals that different customers want. It can also help optimize network usage and improve customer experience and security.
4 Key Benefits Embedded Analytics Provides to Telecommunications
Improved customer experience
Customer service teams have access to the full customer data so they can understand the customer better and make better decisions when interacting with them. A detailed analysis of customer telecom data can help businesses identify what impacts the customer experience and optimize it accordingly.
Enhanced marketing
Data analytics helps telecom companies understand their customers better by reviewing their usage of different services, service preferences, billing and location data, purchase history and more. With this knowledge, CSPs can develop personalized offerings and advertising deals to target the right audience at the right time.
Preventing customer churn
Telecommunication analytics can help forecast network usage patterns, service performance and identify any factors and events that might impact the quality of service and therefore the customer experience. Thanks to these insights, telecom companies can improve their network operations to prevent churn and improve customer satisfaction.
Better network security
Network security is one of telecom's industry's biggest concerns. Data analytics, however, identifies security threats, potential attacks, and anomalies to find out where vulnerability exists. By doing so, telecom companies can strengthen network security and prevent cyber-attacks before they can cause any damage.
Telecommunications Dashboard Samples
Telecommunication dashboards enable companies to gain deeper insights into their most important KPIs such as network coverage, network usage, customer satisfaction and more. They help telecom companies visualize and track how business is performing.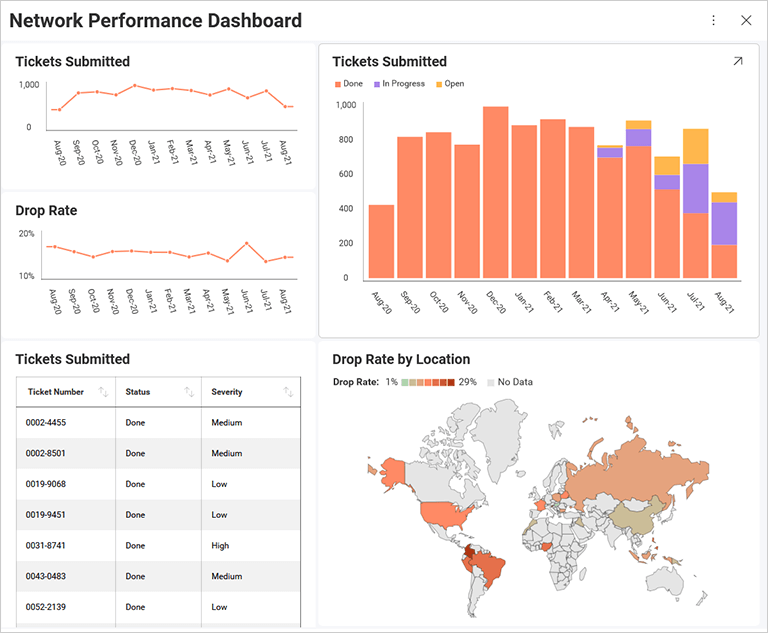 Network Performance Dashboard
This dashboard helps monitoring the most important network performance KPIs such as latency, frequent retransmit, and call setup time. These insights help you figure out key performance activities like how many calls did the network dropped for example. When you know those things, you'll know where to focus and optimize for best network performance.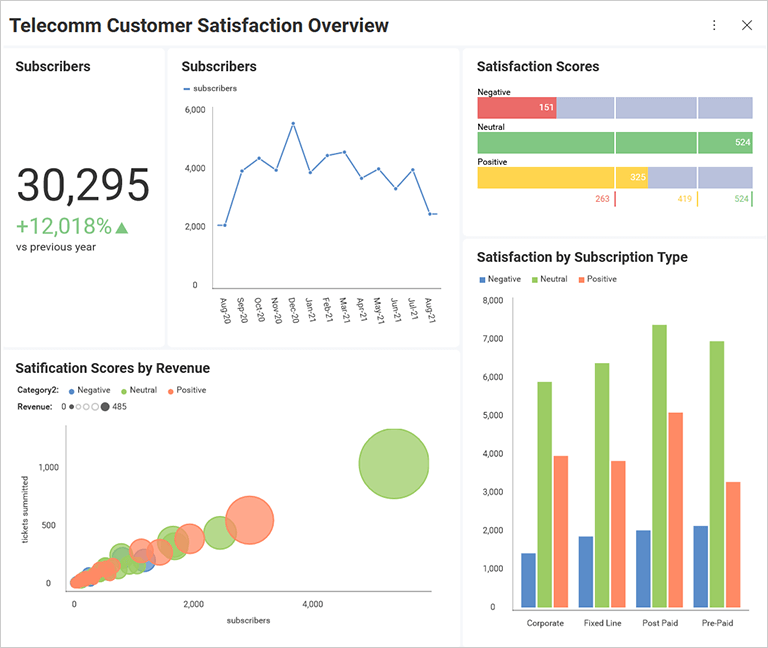 Customer Satisfaction Overview Dashboard
By analyzing customer support tickets and wait times, telecom service providers can quickly resolve any issues to ensure customers remain happy with their services. Customer satisfaction overview dashboard lets you track subscription details, satisfaction ratings, support tickets statues and more to help you optimize customer service operations and increase the average revenue per customer.
Frequently Asked Questions
What is telecommunication analytics?
Telecom analytics is a business intelligence (BI) process by which communication service providers (CSPs) can gather and analyze large volumes of data to gain actionable insights which can help them in increasing sales, reducing churn and fraud, decreasing operational costs and much more.
How is analytics used in the telecommunication industry?
It helps telecom companies to collect, analyze and extract useful insights from datasets and support them to make critical business decisions in a timely manner. Telecom analytics can use predictive insights to keep satellites, vehicles and repeater towers functionating optimally to reduce downtime and even discover new trends in the behavior of end-users to avoid mobile services outages or poor quality.
What is telecommunication analytics software?
Telecommunication analytics software is a BI management tool that allows professionals in the telecom industry to leverage their wealth of data to draw actionable insights and improve their operational decision-making process. The software provides the technology needed by the industry in order to analyze this data and delivers data visualization tools to help them create informative dashboards.
What are examples of telecommunications?
Typical examples of telecommunication networks include the telephone landline network, the radio broadcasting system, the cable TV networks, the mobile network, the computer network and the Internet.
What is an example of telecommunication analytics in real life?
Let's say you live in Chicago and often make calls to family members living in Europe. Telecom companies collect and analyze the data of your calls and can offer you a personalized monthly plan with attractive benefits related to your long distance, over sea calls. This results in better conversation and revenue generation for the telecom provider and in satisfaction for the customer.