In a recent survey report that we produced, Trends in Embedded Analytics 2019, we found that 29 percent of respondents were currently embedding—or were planning soon to embed—analytics into their ERP apps, the largest vertical segment in our report. The survey includes responses from 478 software developers, IT and Ops managers, and enterprise business decision makers.

The interest in including dashboards and visualizations within enterprise resource planning—or ERP—applications makes sense as the complexity and volume of ERP data lends itself to simplification. ERP systems typically include a range of business applications including accounting, human resources, manufacturing, CRM or inventory management. The value of ERP systems is that they maintain a database of information related to these business applications and break through silos by allowing data to be shared across a company.
Data Analytics to Spot Trends
The ability to then visualize this data easily in attractive charts or dashboards provides faster insights into specific issues and can assist in the development of business goals. Data analytics also allows you to spot trends and outliers, and even do statistical tests of what you are seeing.

It's important that analytics and visualizations are embedded within the ERP software itself so users don't have to export the data to a separate application. And if the analytics are easy for business users to use with self-service capabilities, then more people throughout a company can do deeper dives into a range of pertinent business data, including customer characteristics, their satisfaction levels, product data, production data such as plant efficiency or orders shipped, and more. 

SuperStream, a global ERP organization based in Japan, offers the SuperStream-NX ERP system that instantly visualizes ERP information of group companies across their overseas subsidiaries. The program provides local business practices, currencies and other features crucial to successful globalization.

The company has integrated Reveal business intelligence software into SuperStream-NX, and is excited by Reveal's ability to visualize its ERP data and the ease of deployment.

"We provide an ERP package to over 9000 clients in Japan," says SuperStream chief technology officer, Makoto Yamada. "With Reveal, we are able to show large amounts of data with beautiful graphs and charts. The graphs are also easy to create and greatly help with workplace efficiency."

Yamada also noted that because the interface was so easy to navigate there was no need to create a manual to guide its clients. And with Reveal's In-Memory support, SuperStream was able to implement graphs and charts across all of the ERP functions.
Market Shifting to Analytics Built into ERP
Only a few years ago, it was common that enterprises would use a third-party BI product and have teams of highly-trained analytics professionals analyze and interpret data from the ERP system. But this caused a bottleneck as all analysis had to be routed through busy, centralized resources that could be backed up for weeks or months.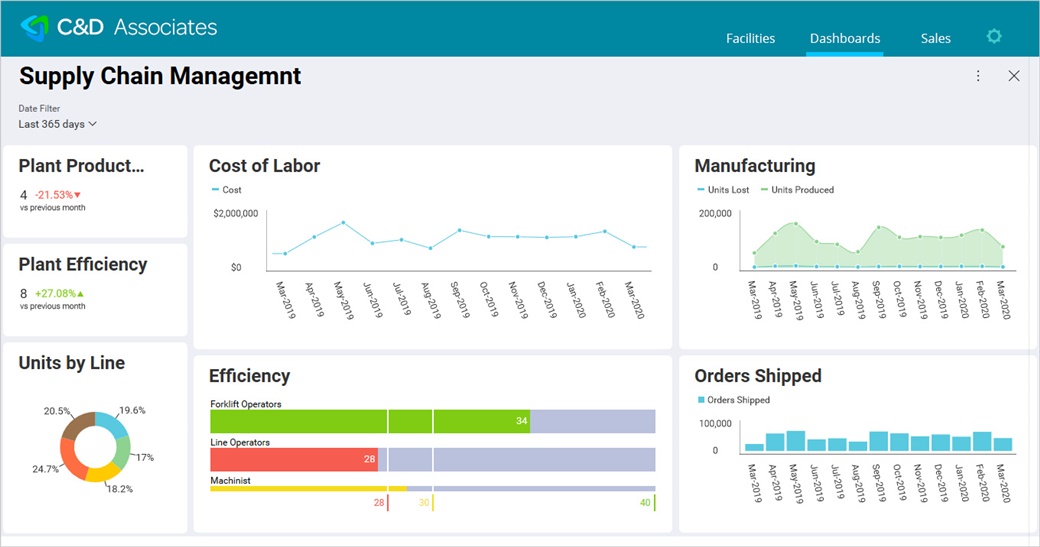 A supply chain management dashboard turns complex rows of data into beautiful charts and graphs that reveal operating efficiencies, trends and opportunities.
Now, with the growing market demand for analytics built into software applications, it's become expected that ERP systems will provide actual intelligent data that can be used to drive business decisions and strategy, not just numbers. As ERP vendors consider which embedded analytics software to use, key considerations to keep in mind include the ease of embedding, the look and feel of the UX, self-service and ease-of-use for business users, and the vendor's ability to customize and turn on advanced analytics capabilities like predictive analytics and machine learning.

To learn more about these options, read our Buyer's Guide.

Or learn more about Reveal embedded analytics software and demo the product at www.revealbi.io.


Categories:
Embedded Analytics